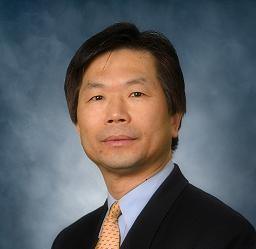 The recipient of the 2014 William G. Hunter Award is Dennis K. J. Lin. The Statistics Division of the American Society for Quality (ASQ) established the Hunter Award in 1987 in memory of the Division's founding chair to promote, encourage and acknowledge outstanding accomplishments during a career in the broad field of applied statistics. The attributes that characterize Bill Hunter's career - consultant, educator for practitioners, communicator, and integrator of statistical thinking into other disciplines - are used to help decide the recipient.
Dennis K. J. Lin at 2014 Fall Technical Conference, Richmond VA, October 2nd, 2014
Dennis made the following remarks when he accepted the award.
Thank you, Thank you and Thank you! I am so thrilled and honored to receive such a prestigious award. I was asked to say something for 10 minutes. Well, all I want to say can be put in 10 seconds—"Thank you, Thank you, and Thank you."
To Bill Hunter...First thank to Bill Hunter who has a compound influence in my entire career. I will say few more words about him later.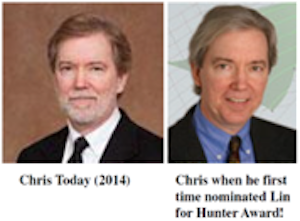 Next, to Professor Chris Natchsheim (University of Minnesota) who nominated me for this award and to all the supporters who apparently write excellent supporting letters to convince the committee. Here I provide two photos of Chris—one photo was taken when Chris first time nominated me for the Hunter Award and the other one is his current photo (when I receive the Hunter Award). They look quite different—one is clearly older than the other one, after all, it has been a while. For those future awardees, I hope this send some messages to you. For those (many) who wrote supporting letters, I sincerely appreciate your supports. To show a token of my appreciation, I would love to invite you for a beer, please come to Suite 321 tonight after 8:30pm. (Note: this is in fact the "Happy Hour" of the conference, everyone was invited, with beers etc. provided by the conference :-).
Also To the Award Committee - my sincerely thanks to Dr. William Brenneman and his Hunter Award Committee even though I don't know who you are, I do appreciate your support. This award means so much to me, as a student of Bill and his follower. Thanks also to the ASQ Statistics Division for your long time supports through the years.
Bill Hunter and me - I have my PhD degree from Wisconsin, unlike previous Hunter Award receipants, I did have the honor to meet Bill Hunter in person, in fact, I took his Stat 424 "Design of Experiment" at Wisconsin during my first semester there. Bill, of course, as many of you know, is a great teacher. He was pretty ill by then (although this was unknown to us, most students). One day, an old fellow came to the class and said "Dr. Hunter does not feel well today, I will replace him for today's lecture." While puzzling by what's going on, this old man keeps going "I am George Box." This is in fact, the very first time I met George.
One important feature of winning the Hunter Award is that my name will be attached with all previous winners. I am so privileged to join to this list. I have made a simple plot for this—based on the first letter of their last names. As you can see, I am the second "L," while the most frequent Hunter Awardees have their last names begin with "H"—not a surprise!
Bill Hunter I know - It is so temping to make a comparison between Bill and myself although I have to admit that I am no where near Bill's contributions in reality. This is my presentation, so let me give it a try.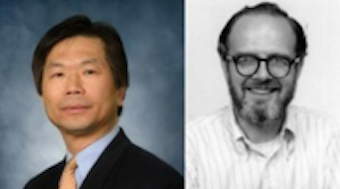 We were born in very different months, years (it is so temping to add that George Box passed away on March 28th, 2013) and places (Taiwan vs Buffalo). We have different hobbies, but we have our PhD is the same institution (statistics at University of Wisconsin). We are both ASA SPES Chair once, and Fellows of ASA and ASQ. Other comparisons about Drink and Social structure are based on my limited knowledge—they could be incorrect! Bill has been my teacher and my model, ever since first semester I arrived USA.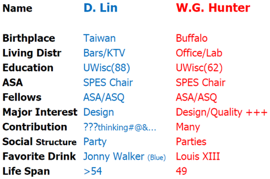 One more thing... For those Apple fans — "I am not done yet, I have one more thing!" Remembering Bill Hunter's magnificent contribution to our societies (mainly ASA and ASQ), yes, Bill, we promise to keep your spirit to be a good communicator, consultant and educator, innovator, integrator and implementer! Let me echo what I have said at the very beginning, Thank you and Thank you! Bill may be gone, but his spirit will be with us forever.